CONTEST IS NOW OVER!


***I'VE REVISED MY RULES FOR THIS GIVEAWAY, PLEASE CHECK OUT THEM OUT!! THEY HAVE ASTERISKS BESIDE THEM!!***
After happily blogging for over 3yrs and this being my 150th entry, I decided that it was time for a giveaway. Oh, and what better time of year to do it than winter and right around Christmas. I originally wanted to do 12 days of giveaways, but as I love so many things this time of year it could of gotten really expensive, especially since this was kind of spur of the moment. (Perhaps I'll do that next year and plan ahead so that we have the extra money to do so.) Any way, here a pic of the things I'm giving away:
There is Swiss Miss Dark Chocolate Cocoa b/c I love sipping on a cup of this made with warm milk to warm me up on a cold snowy day. There's Bath & Body Works Vanilla Bean Noel body spray and body cream b/c it's simply an irresistible smell and is only a seasonal item and I love it. There is regular candy canes b/c what is the holidays without this scruptuous peppermint candy, and there's chocolate dipped candy canes as well b/c I just found them this year and they are oh so good and delectable. There is chocolate covered cherries, b/c this is one of my favorite Christmas candies that my DH puts in my stocking every year. There are two bottles of nail polish in brownish beige and dark red cinnamon color, b/c I love to have my nails painted and these are a couple of my favorite colors for doing so. There is Strawberry Chapstick, b/c we all know how our lips dry out and get cracked in the cold winter months and this always helps keep them moist for me. There's GermX, which I've always had handy since being on my own but is my new best friend this cold and flu season with the H1N1 and we all know how good it is to have some of this handy. And last but certainly not least is the 2 pairs of fuzzy pink slipper socks, I have a pair similar to these ones that I love and they keep my feet warm and are in my favorite color. I'm hoping that the lucky winner of this giveaway will enjoy my favorite things as much as I do this season.
***Here Are The Rules In Order For Your Chances To Win!!***

You **NO LONGER HAVE TO BE** be a follower of this blog unless you would like to be. If you're wondering how to do so, please scroll down and on the left hand side you'll see a button to click that says "Follow". Click it and follow the directions from there (you may need to set up a google account with your email address if need be). **(The reason for this is alot of people are either new to finding my blog and don't want to follow just yet or they're having problems figuring out how to do this, so I'm not making it mandatory to enter to win.)**

You MUST leave a comment at the bottom of this entry by clicking on the "Comments" link, and then tell me something that you love or just can not live without this season for one chance to win. In this entry you MUST leave your e-mail address so I can get back to you IF you do not have a blog that I can link back to or I don't know any other means of getting ahold of you. You may make it non-search engine friendly if you'd like.

For another chance to win you can post about my giveaway on your blog. If you do this, you MUST leave the link to the post about it in a separate comment saying that you have done so.

For another chance to win you can snag this button below and post it in your side bar, (just copy and paste the code below the pic into an HTML/Java gadget in the Layout section of the Dashboard you can also do this for the post about this giveaway as well if you would like) and then leave another comment saying that you have done so. If you do this then you MUST leave a link to your blog in the comment if I can't link back to it.

**BASICALLY JUST LEAVE A COMMENT SAYING YOU'D LIKE TO BE ENTERED AND TELL ME SOMETHING YOU CAN'T LIVE WITHOUT FOR THE WINTER/CHRISTMAS SEASON AND MAKE SURE TO INCLUDE YOUR EMAIL ADDRESS IF I DON'T KNOW HOW TO GET IN CONTACT WITH YOU AND *PRESTO!* YOU'RE ENTERED!! GOOD LUCK!!**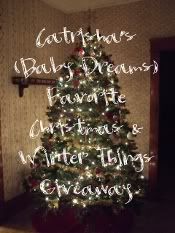 Contest ends at 7pm EST on Thursday, December 10, 2009. Winner will be drawn by random.org and e-mailed. You'll have 24hrs to get back to me with your mailing information, if you do not do so then I will continue to move on to the next person drawn until I have a winner with mailing information. Good Luck to you all, and please remember to follow the rules or your entry will be discarded. Happy Holidays!!