For those of you that frequent my blog as you've noticed I've made many big changes to the Baby Dreams blog. I love designing things and being able to tweak things just to my liking. I searched for what my DH would say was endless hours on different template designs, font designs, "how-to" tutorials, and downloaded an editing program.... FINALLY I have things just where I want them.
For those of you haven't looked past the top post, please do. There is a place for you to become a follower of this blog on the left side bar. This is VERY important as I plan to do a Christmas giveaway later this week or early next week and it will be my very first giveaway and
YOU MUST
be a follower. On the right side bar if you're dealing with infertility there is a button that links you to a common thread that ladies and even men dealing with infertility wear as well as a link to
Stirrup Queen's Completely Anal List of Blogs That Proves That She Really Missed Her Calling as a Personal Organizer
.
(She calls it this herself, I actually have it listed as
Stirrup Queens List of Blogs
but whatever... LOL.) Plus, on the left side bar I've given love to the template designer of this blog... The Template Mama (her button is clickable as well so you can check her out if you'd like). And if you really, REALLY love my blog please show me some love by snagging one of my buttons on the left side bar or right here in this post. All you have to do is add a HTML/Javascript widget to you layout and copy and paste the code below the button, and please make sure you let me know if you snag it by leaving me a comment with your blog address so that I can come check out your blog as well.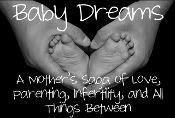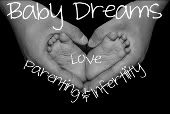 Last but not least if you would like to re-design your blog and you're having problems feel free to leave me a comment or email me at the email address I have listed in the right side bar, and I'll try to help you as much as I can. (FYI: I've made it non-engine search friendly and/or non-bot friendly so at is really "@" and dot is really ".", so on and so forth.) Much love to ya'll and I hope you're enjoying the new makeover as much as I am... Happy Holidays!!